5G networks are poised to deliver low-latency, high-bandwidth, scalable networks to consumers and businesses worldwide. This next generation of networks is desperately needed to deliver the required high-speed connectivity to support new services and use cases like autonomous vehicles, smart cities, specialized applications, IoT, and AR/VR. While 5G networks supply unparalleled performance, capabilities, and automation for operators, they also place high demands upon them. Conventional communications and connectivity hardware is not capable of sustaining these challenging requirements. 5G is forcing telecommunication companies to reconsider how to effectively and efficiently deliver their services. Many are looking towards cloud native architectures first pioneered in enterprise and data center use cases. The resilient, flexible, scalable, and automated paradigms that define cloud native are the perfect enablers for the next generation of telecommunication use cases.
To demonstrate that building an end-to-end cloud native 5G network was not only possible but also has many advantages, LF Networking (LFN), which represents over 70% of the world's mobile subscribers, lead a collaborative cutting-edge Proof-of-Concept with over 100 contributors. The participants wanted to illustrate how to build, connect, and manage a global 5G network – including on-prem, cloud, and edge operations – on open architecture running network services using Kubernetes. This cloud native 5G network was keynoted at KubeCon + CloudNativeCon North America. The demo showed a live prototype running in labs around the world using Kubernetes and other open source technologies to deliver a fully containerized 5G network on stage in San Diego and carry out a phone call with a person in France.
As a part of the demo, we were extremely excited and proud to provide the Kubermatic Kubernetes Platform for Kubernetes cluster orchestration. Kubermatic Kubernetes Platform simplified the life cycle management of the many clusters running across multiple providers needed in this demonstration.
"5G opens many exciting new business opportunities and Kubernetes is poised to be the unified base upon which 5G is delivered. With the cloud native 5g demo, Kubermatic is excited to showcase how the Kubermatic Kubernetes Platform can deliver a consistent Kubernetes experience from cloud to core to edge," said Sebastian Scheele, CEO, Kubermatic.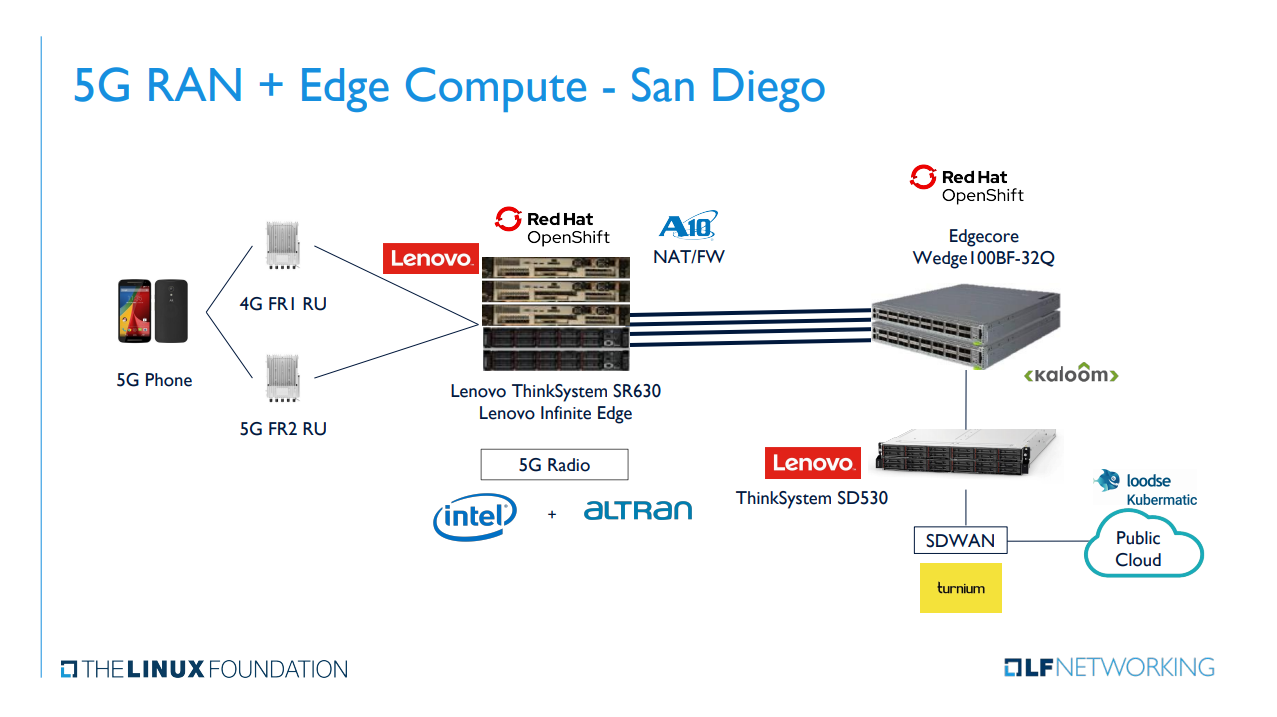 The keynote showed the world that cloud native 5G is not only possible but here today. The learnings from the PoC will be contributed and integrated into standards and verification bodies, like CNTT, to help inform the best practices for the next generation of networks.
With over 100 individuals from 14 companies working on the demo, it truly represents the power of open source: diverse groups coming together to solve common challenges. Bringing cloud native approaches to telco to run demanding 5G networks is just the latest. We would love to thank all of the other organizations that participated in this effort: A10 Networks, A10 Networks, Alibaba, Altran, China Mobile, Commscope, Eurecom, Intel, Kaloom, Lenovo, NetScout, OpenAirInterface, Red Hat, and Turnium.
Where to learn more and get involved:
See the keynote yourself here.
More information is accessible via the POC archive here where demo materials will be made available, as well as through the Virtual Central Office (VCO) mailing list: https://lists.opnfv.org/g/opnfv-vco.
Find out about CNTT here. A CNTT Face to Face meeting will take place in Prague as part of the LFN Developer & Testing Forum, January 2020. The Virtual Network Functions (VNF) testing hacking track team are open to CNF/PNF participants as well. Please contact ovp-support@lfnetworking.org.