As co-founder of one of the leading Kubernetes based product companies, I am proud of what our team has achieved in the last 12 months. Kubermatic is the Top 5 corporate contributor to the Kubernetes Project right after Google, VMware, Red Hat and Microsoft. This is an outstanding achievement.
Founded in 2016, we are a self funded enterprise software platform startup that has grown organically since Day 1 with open source technology at our core. We play a seriously outsized role as contributor to Kubernetes and influencer in the larger Cloud Native ecosystem. Kubermatic has approximately 60 employees and our ranking is even more impressive when comparing our size to the Top 4 companies which are Google, VMware, RedHat and Microsoft. If you look at it as a percentage basis of staff, we have many times more contributors to the Kubernetes ecosystem than the preceding companies' cloud and Kubernetes focused developer departments. Not to mention that companies like IBM, Huawei and Intel are behind us in rank and there aren't any other startups like Rancher or Mirantis anywhere near the Top 10.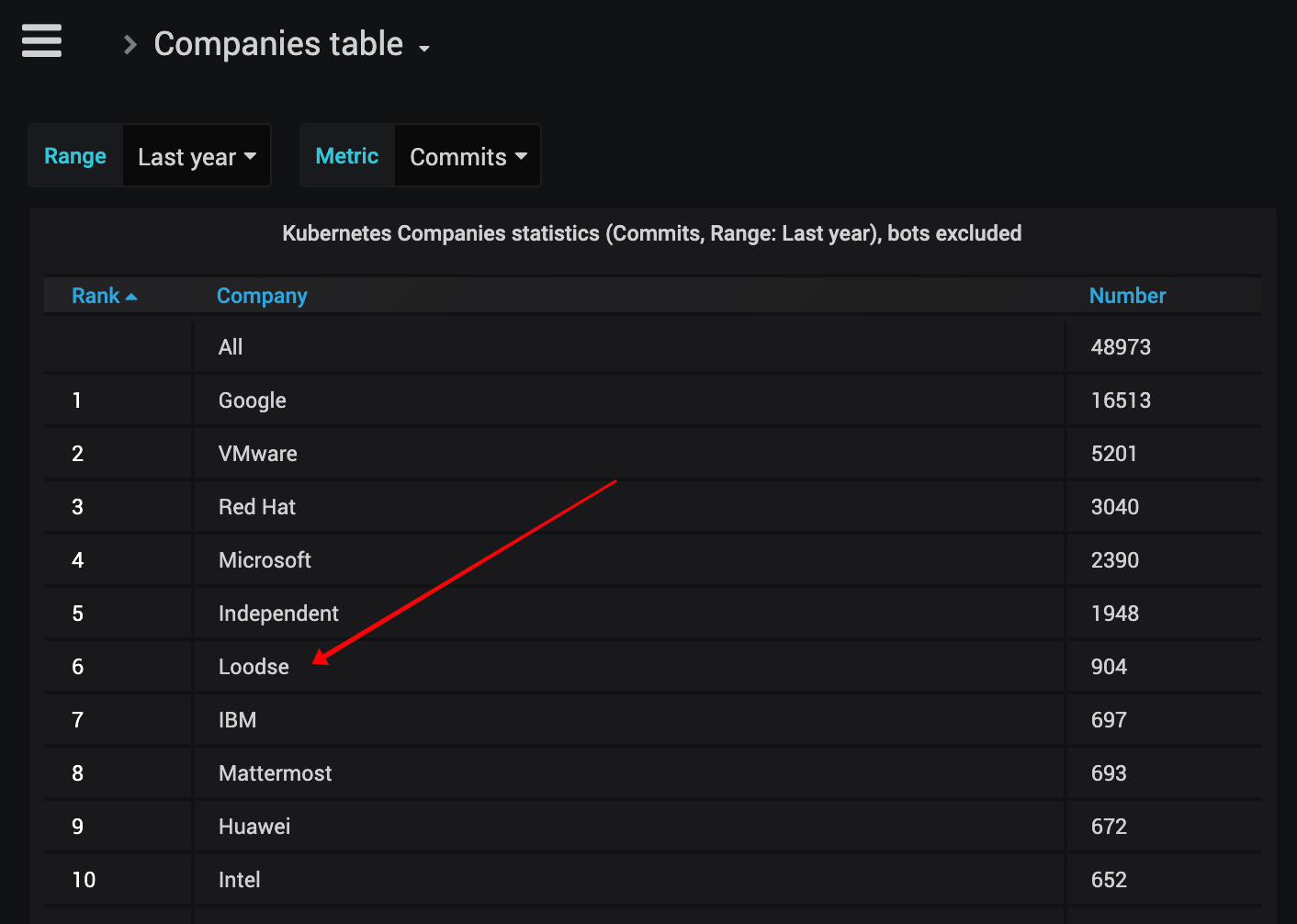 But if you know Kubermatic, you are not surprised. Our clear vision for how Kubernetes can evolve to provide enterprises a comprehensive automation platform to manage all of their IT – from services to applications to infrastructure – is why we started the company and is what drives us each day.
Kubermatic has been a member of the cloud native ecosystem from its very beginning. We run some of the longest standing Kubernetes Meetups in Europe, including those in Munich, Amsterdam and Hamburg. In addition to having so many contributors to upstream Kubernetes, we were very proud to have Nikhita Raghunath elected to the Kubernetes Steering Committee last autumn. We've been a member of Cloud Native Computing Foundation for more than three years, exhibited at KubeCon for the same time frame, and are the host of OperatorCon at the recently postponed KubeCon Europe.
Why We Invest In Open Source
At Kubermatic, we believe that open source communities develop better software to the benefit of all. Kubernetes has entered the commercialization stage of an open source project lifecycle and we are seeing companies shifting a large portion of their engineering investment from open source core contributions to proprietary contributions. However, much remains to be done in upstream Kubernetes to help enterprises achieve the ROI needed in this much hyped technology.
Our vision for Kubernetes does not stop with what we currently see upstream today. We will continue actively contributing to upstream Kubernetes, cloud native technologies, and other projects that facilitate the adoption of automated multi-cloud operations. In addition to the Kubermatic sponsored open source Kubermatic Kubernetes Platform KubeOne, which automates cluster operations on your chosen cloud, on-prem, or edge environment, we have other complementary open source projects in the works that help fulfill our vision. To learn more, check out our community page and join our projects on Github:
To check out our products and learn why enterprise leaders such as Alliance, Bosch, 1&1 and many more go cloud native with Kubermatic Kubernetes Platform offerings, please see: