Digitalization Brings Challenges
Increasing User Demand
Business systems are becoming increasingly complex with users demanding high levels of performance, rapid responsiveness, and zero unplanned downtime.
Slow and Error Prone
Performance problems, recurring errors, and the inability to move fast are no longer acceptable.
Endless Pursuit
Organizations need to scale operations, reduce downtime in production and deliver a competitive advantage to ensure customer satisfaction.
Do It All
With Kubermatic
Run chemical factories on production edge
Deliver IoT development and production platform
On-board 100+ projects without additional manpower
E-Commerce and Manufacturing Roll outs
Run Kubernetes as a Managed Service
Accelerate Your Cloud Native Journey
The Next Generation Platform
Automate operations of thousands of Kubernetes clusters across multi-cloud, on-prem, and edge environments with unparalleled density and resilience.
6000+ User clusters from one master cluster
85% Less management time needed
20x More efficient use of your resources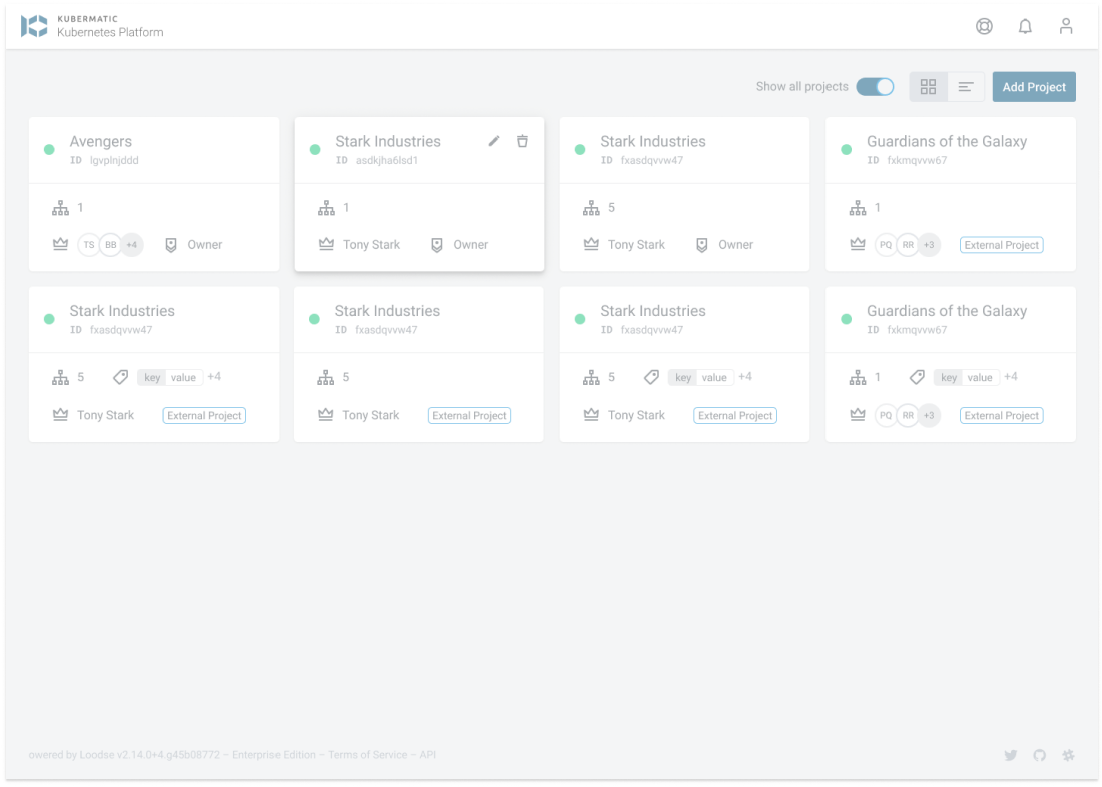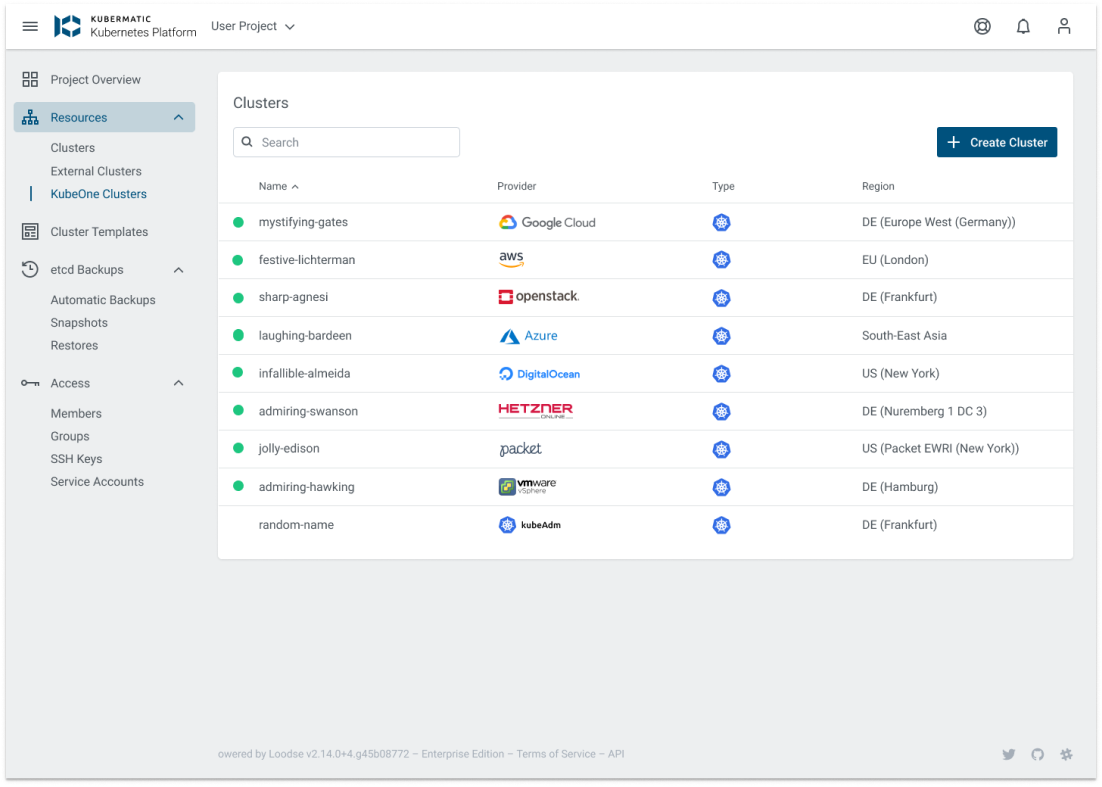 Find the Best Match for You
Datacenters
Enterprise Edition
Kubermatic Kubernetes Platform
Manage large, complex applications across multiple regions with diverse teams. Experience complete control over risk and policy management while also reducing consumption costs at an exponential pace.
Open Source
Community Edition
Kubermatic Kubernetes Platform
Expand within a single region with select applications. Save consumption and improve collaboration processes and workflows with self-service and a built in enterprise app store.
Open Source
Open Source
Kubermatic KubeOne
Get started with Kubernetes in a single region. Introduce effective solutions for development and automation that go beyond the standard cloud offering capabilities.
Consulting Practice
Kubermatic has a reputation for being able to handle highly complex projects with skill and expertise. Consequently, some of the world's most renowned and respected organizations trust us. Our clients, both large and small, rely on us to deliver projects on time and on budget.
Technology companionship
We work closely with our clients to understand their technology needs and to ensure that the solutions we provide are tailored to their specific requirements.
Deep integration with client teams
Close work with our clients' teams ensures that we are fully integrated with their operations, and that we deliver solutions that align with their goals.
Implementation of a carefully crafted strategy
After developing a comprehensive project strategy with our clients, we ensure that the strategy is implemented effectively.
Elevate your projects with Germany's No. 1 Cloud Native Company
At Vonage, we accelerate the world's ability to connect with one unified cloud communications platform. Scalable, secure, and reliable real time communications require a digital backbone that can live up to that. With Kubermatic Kubernetes Platform, we currently operate hundreds of nodes and will rocket this number to five thousand this year. All reliable, all secure, all open source.
Before Kubermatic Kubernetes Platform our system would scale, but our staff wouldn't. We needed a new engineer with every 10th customer, resulting in a bottleneck.

Kubermatic Kubernetes Platform helped us get rid of unnecessary work, freeing our engineers to focus on improving our products.
Modernize IT Infrastructure by Combining Automation and Kubernetes
In today's fast-paced and constantly evolving landscape, organizations are continuously seeking ways to scale operations and meet the demands of their audience. Kubernetes provides a powerful solution to many of the challenges that come with scaling IT infrastructure. But it also introduces its own set of operational complexities that can be overwhelming to navigate without the right partner.
Our customers turn to Kubermatic for our ability to drive business outcomes through automation. Our solutions help streamline and optimize operations, allowing organizations to focus on their core goals and objectives.
Efficiency
Automate and benefit
Increase efficiency by leveraging automation across the kubernetes lifecycle, including Day 2 operations
Minimize to Maximize
Reduce costs
Maximize return on investment by best in class cloud resource optimization. Minimize downtime by automated maintenance requiring limited manual supervision
Unlimited Scale
Stay flexible
Experience unparalleled scalability enabling organizations to easily and seamlessly expand operations on demand
Leading Companies Trust Kubermatic